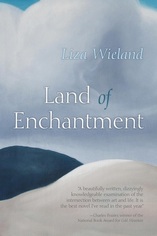 Land of Enchantment (2015)
New Mexico, 1985. Brigid Long Night, a young half-Navajo painter, goes to work as an assistant for the elderly Georgia O'Keeffe. Haunted by the decision to give up her newborn daughter for adoption, Brigid struggles with the direction and inertia of her life. With O'Keeffe's encouragement, Brigid develops a powerful style, incorporating language and wordplay as well as image in her portrayal of Native American life and her place in it.

Atlanta, 1996. Nancy Diamond, an aspiring playwright, encounters Brigid's work and begins to understand the hidden truths about her own life as the child born of an affair between her white mother and an African American artist.

New York City, 2001. Sasha Hernandez enrolls at Columbia University to study filmmaking. She has only recently discovered that her mother, living in Manhattan, is a celebrated painter and sculptor whose work is installed in the sculpture garden at the World Trade Center.

In Liza Wieland's deeply moving novel, these interwoven stories show how art reveals the depth and complexity of human love, in all its betrayals and losses, beauty, and redemption.

Praise for Land of Enchantment:

"Wieland is a vital voice in contemporary American fiction. Her prose is crisp, her voices are true, and her acuity is remarkable."—Colum McCann, author of the National Book Award–winning Let the Great World Spin

"Land of Enchantment is a beautifully written, dizzyingly knowledgeable examination of the intersection between art and life. It is the best novel I've read in the past year."—Charles Frazier, winner of the National Book Award for Cold Mountain

---
---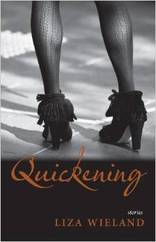 Quickening (2011)
From the opening story in Liza Wieland's third story collection, in which a literary translator reflects on her first marriage, to the last, a poetic evocation of a daughter's love for her mother, lyrical yet realistic portraits of women unfold. Caught in revealing and cathartic moments, her characters, both historical and invented, find themselves at emotional crossroads: a young girl encounters the elderly Ezra Pound in Venice; Marie Curie's daughter Eve attends the funeral of her mother's lover in Paris; a woman survives the 1944 Nazi massacre in Oradour, France; a nun in New York City catches a baby dropped out a window; a U.S. college applicant performs sign language at poetry readings.

Praise for Quickening:

"Liza Wieland writes of discord with such harmony and wisdom that even the bad things that befall her characters feel limned with wonder and grace. For all its wonderfully realized tensions and conflicts, Quickening is an oddly hopeful and redemptive book."—Michael Parker, author of Don't Make Me Stop Now

"A deft, fleet, and luminous collection of stories. Liza Wieland has a gift for culling extraordinary prose from the ordinary human moment; ultimately we see that no human life is merely ordinary. It was a pleasure to read these stories, and to feel myself in the presence of somebody who can tell me, jaded reader as I am, some things I don't know about this world."—Cynthia Shearer, author of The Celestial Jukebox

"Poise, intensity, light-drenched attention: Quickening is a glorious book. It reads as if the writer herself were transformed by these stories. This is language into grace, an astonishing collection."--Paul Lisicky

---
---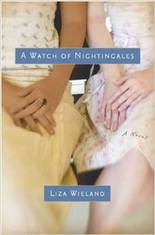 A Watch of Nightingales (2009)
A modest, quiet woman, Mara Raynor never dreamed she'd one day find herself in charge of the small private school in Washington, D.C., where for many years she taught music and choir. But after the unexpected death of her husband, the school's headmaster, Mara finds herself thrust into the public eye, burdened not just with the responsibilities of acting headmaster---a role she never wanted---but also with a potentially explosive political and religious controversy that tests parents' and school administrators' spirit of tolerance.

When a Sikh student is caught wearing a ceremonial knife on school grounds, fear spreads among parents and the school board. Coming at the same moment as the disappearance of Mara's teenage daughter, the controversy quickly assumes a far more personal nature. Not just any student, the Sikh boy is both the son of a woman with whom Mara shares a complicated past and---as Mara soon discovers---her own daughter's boyfriend.

As it moves back and forth in time between the school in contemporary Washington and a girls' boarding school in the British countryside in 1977, A Watch of Nightingales weaves a rich and textured exploration of fear and remorse, the mysteries of love, and the complicated tensions that ring down the generations from parent to child.

Praise for A Watch of Nightingales:
"Conjuring the entwined lives of teachers and students in two schools (and two generations) on either side of the Atlantic, A Watch of Nightingales stands alongside The Prime of Miss Jean Brodie and Goodbye, Mr Chips as a testament to the responsibilities, rewards, and risks of teaching. This is a book of luminous insight and quiet but telling wisdom, about youth and maturity and the bridge of loss and remorse that connects them. Liza Wieland's is a mature and deeply moving vision, conveyed in prose that sings as sure and clear as the birds of her title."---Peter Ho Davies, author of The Welsh Girl

---
---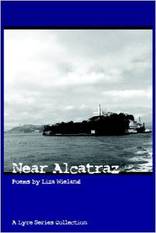 Near Alcatraz (2005)
Forcefully grounded in the here and now, in spaces specific enough to be located on a map, the poems of Liza Wieland's debut volume Near Alcatraz also gracefully reach for what is beyond the local, into what connects us everywhere and anywhere.

Praise for Near Alcatraz:
"'The heart writes would; the heart writes wound.' As Wieland's epigraphs instruct us, the heart serves as both narrator and protagonist of Near Alcatraz. And indeed, all of Wieland's narrative gifts are present in these poems of family and faith, country and love. I've so often found the poetic in her fiction; what a pleasure to find story in her verse."—Kathy Fagan

"The poems in Near Alcatraz examine the excruciating correspondence between love and loss, how each small separation is a premonition of the final separation, reminding us that we will ultimately lose our lovers, our parents, even our children, and how love makes loss inevitable even as it brings us enormous joy. Consequently, the pain of loss is often at its most acute when the loved one is still present. These poems speak individually and as a whole with the grace and beauty of dancers, anticipating the moves of one another, responding, countering, intensifying. Liza Wieland is a poet of enormous agility and wisdom; and she has written a hauntingly beautiful book."—Corrinne Clegg Hales

"There is so much to praise in Near Alcatraz, which reveals what I, a poet, want to think of as the poet's soul which has so far publicly spoken mainly through the lyrical prose of this extraordinary writer…I might point out an unusual technical grace which finds itself at home in the most difficult of received forms, as well as in Wieland's loose conversational idiom; her dirt-plain level of diction which sets us up for the subtle explosions of phrases such as 'the daily misprision of family life,' or images like 'your watery veins, arteries wet and dark.' I'd have to add to that this book's remarkably place-driven and earth-centered vision which takes everything from NYC to remote Utah to heart, and its novelist's gift for cataloguing family ties and historical sweep…Mainly, I feel Near Alcatraz is written out of a deep love for strangers and bedfellows alike: it is warm and human and generous in its affections, and it is a sensational read."—Michael White
---
---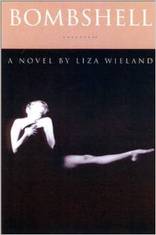 Bombshell (2001)
Liza Wieland's mesmerizing new novel poses the questions: what if such a criminal, whose personal losses and obsessions have terrorized America, had a daughter—a beautiful blonde dancer in Las Vegas? What if she had a stepbrother who knew the truth? Wieland's novel suggests that the legacy of The Bomb detonated on July 16, 1945, is this mad professor's string of bombings, fifty years later. Through the personal stories of these three characters, Wieland shows that it's never clear where privacy ends and public life begins. And that we must take part in the lives around us, take blame, take care.

Praise for Bombshell

"Liza Wieland understands down to the bone how loneliness and love compel her characters to make their impossible choices. Not only does she have a searing intelligence and wisdom, her prose is by turns graceful and astonishing."--Jane Hamilton

Liza Wieland's brilliant work commingles death, sexuality, and the desperate search of children for ways of assuring themselves of love. These are some of the best pages of fiction I have read in a very long time."--Frederick Busch

"In Bombshell Wieland takes a shocking story from our national news, the uni-bomber, and casts her speculative, fictional eye on it. She has poked her hand through the tent flap of reality into the rarefied air of the imagination. Like a master ventriloquist, she throws her voice into three disparate characters, all of them deeply affected—even maimed, psychologically if not physically—by the obsessions of a mad bomber. Bombshell is one of the most engaging, one of the most vividly and intelligently crafted novels I've had the pleasure of reading." --Allen Wier

From Publishers Weekly
Jane Gillooly is an exotic dancer in Las Vegas with some very unusual family history in Liza Wieland's (You Can Sleep While I Drive) Bombshell. Once Jane's father told her, "I'm falling out of the world." Years later, her stepbrother, Charlie, comes to town with a revelation: he is convinced that her father is the Unabomber and one of his victims was Charlie's own wife. All three take turns narrating, shining lights into the dark corners of the human mind and soul in their search for understanding. Reflective, poetic and dreamlike, this powerful novel boasts blurbs from the likes of Madison Smartt Bell.
Copyright 2001 Cahners Business Information, Inc.
---
---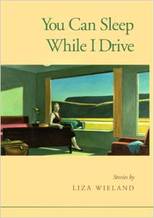 You Can Sleep While I Drive (1999)
In the nine stories of this, her second collection, the elusive nature of human feeling and experience continues to engage Liza Wieland's imagination, as her characters, old and young, male and female, try to define themselves against the unforgiving landscape of the American West and of their own desires.

In the title story, a father travels across the country to visit his son in California who is dying of AIDS. The strange and tender meeting of father and son brings hope to both of them that this visit might heal three decades of hurt and regret.

In "Salt Lake" a young woman tries to ease her invalid mother through death and at the same time comes to understand her mother's long reticence in revealing the secret of her father's identity.

In "Cirque du Soleil" a San Francisco periodontist has to deal with his feelings about his elderly mother's love affair with a much younger man as he is faced with the dissolution of a love relationship of his own.

In "Gray's Anatomy" three aging inventors find an unexpected haven for themselves and their gravely ill children in a beach house on the California coast.

The narrator in "Laramie" asking, "Where did it go, the part of me that loved you," is not so much seeking an answer as trying to find, as all Wieland's characters do, a place of sanctity that refuses interpretation.

Praise for You Can Sleep While I Drive

"Page by page, Ms. Wieland has blazed her way, like the less happily fated Donner Party one of her characters broods about, into wholly original and hearteningly dangerous fictional territory....I am seduced by her method, by the way she arrives at and then leaves a moment, by the psychological curiosity that is time for her people, by the sentences that come at you like prayers or howls or songs, by worlds fully evoked, by stories that refuse to take the easy way out."--Lee K. Abbott

"Liza Wieland's stories are wry, touching, crafty portraits of life in the far West where everybody seems to be yearning for roots, for cement, and settling for a what-the-hell compromise. But there is a nobility and boldness to her characters that lends them a heroism missing from much modern fiction, and makes these stories totally absorbing adventures of the heart."--Ron Hansen
---
---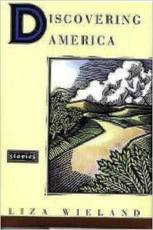 Discovering America (1994)
Set in towns and on highways, and moving from east to west across the middle of the United States, the ten stories in Discovering America are powerful and haunting tales of love, love and lightning quick getaways...and give voice to territory that is usually mute, immeasurable: the secret, tangled pathways of the heart.

Praise for Discovering America

"These stories are full of energy and wisdom and heart and wonderful surprises. There's only one way to read them--with delight."--Richard Russo

From Publishers Weekly
Bittersweet, intoxicating language infuses Wieland's ( The Names of the Lost ) first collection of short stories. Though at first glance these 10 tales appear to be nearly naive depictions of contemporary life, they are in fact bound together by a dense net of sophisticated wordplay: images, metaphors and allusions recur, giving the narrative the emotional pull of dream logic. A deadpan sense of humor makes its presence known as well. In "Called By Name," a woman recalls driving west in her truck: "I was learning Spanish from Berlitz tapes. Speak Spanish Like a Diplomat! the plastic tape cases said. All I had to do was Speak Spanish Like a Librarian! I wondered what the difference was, and I still do." Wryly romantic, "Aisle Help" stars a matchmaker and marriage specialist on the run from matrimony. "Tommy Wadell" and "Who It Really Was," both set in Atlanta, revolve around teenage girls' doomed relationships with boys their parents are sure to disapprove of. Grief, love and sexuality fairly blaze from the pages of "Lessons and Carols," the wrenching, intricately wrought account of a teenager coming to terms with the aftermath of her father's death. The collection sweeps to a close with the title story, an ambitious, meticulously constructed meditation on such seemingly disparate topics as passion, whales and mapmaking. Playful, challenging and heartfelt, these stories offer many discoveries to savor. Copyright 1993 Reed Business Information, Inc.

---
---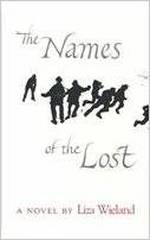 The Names of the Lost (1992)
Set in the summer of 1980 at the height of the kidnapping and murders of black children in Atlanta, this highly charged, poetic novel tells the story of nine characters caught up in a public tragedy as well as in their own more private losses. The mysterious murders intensify the sense of isolation of the characters--black and white, children and adults--whose interwoven first-person narratives make up the novel. As the narrative voices grapple with the ghosts of the missing and murdered children and with their own inner demons, they try to impose some sense of order on the tragedies that touch their lives.

Praise for The Names of the Lost

"The Names of the Lost is a wonderful novel, beautifully written and told, perfectly controlled, moving and evocative...a virtuoso piece of work...fiction of the highest quality. As a teacher of writing and a skeptic, I'm forced to confess I can find no faulty with this book. It's ready. How the author got here, where she is, is some kind of miracle and mystery, but beyond anything except honoring."--George Garrett

"The Names of the Lost is remarkable for its attention to language--especially to its mysterious, lyrical properties."--Mark Strand

From Publishers Weekly
This first work of long fiction by poet and short-story writer Wieland (her work appeared in Pushcart Prize XVII: The Best of the Small Presses ) is lush, emotive, lyrical.... The multiple murders of black children in Atlanta a dozen years ago and the attendant climate of fear serve as the factual backdrop here. for this often provoc ative work. There is much fine, promising writing here, especially in the poetically musical passages....
Copyright 1992 Reed Business Information, Inc.

From Library Journal
In this debut novel, three teenage girls consider their own lives and personal loss after their discovery of one of the victims in the Atlanta child slayings case. Wieland uses first-person narrative to allow the girls and other characters in the book to tell their stories, their immersion in the sorrow of living and their acceptance or denial of this sorrow.
- David A. Berona, Westbrook Coll. Lib., Portland, Me.
Copyright 1992 Reed Business Information, Inc.
---